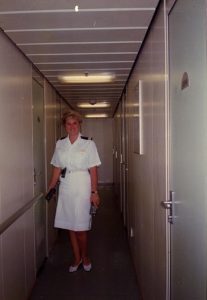 I was a fully registered Nurse. It all began with nursing – yes, nursing not business. Nursing was my first career and it took me all around the world. I worked on cruise ships and I was the Charge Nurse responsible for managing the on board hospital and we were responsible for medical care for 2,000 passengers and 1,000 crew.  There were many exciting times but it was also pretty scary at times, being in the middle of the ocean and you are it! With doctors who were from Columbia and English was their second language. Pretty tricky in emergency situations when they were yelling in Spanish – and the extent of my Spanish was "Ola, como estas"…
When I returned to New Zealand my next role moved me into the corporate world. When I was a nurse I saw all of the sales reps waltzing in with their coffees and flash cars and thought – I could do that! So, I become a sales rep for a large company – the reality was very different and there was far more hard work involved. But I loved it. I wasn't always good at sales but I soon became great at sales – I loved that if someone had a problem – I knew what they needed, and I help them find a solution. Then I began being promoted through the ranks and found myself in national strategic and consulting roles.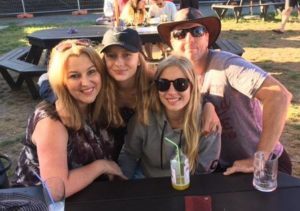 These roles meant spending a lot of time from home, flying up and down the country working long hours and something had to give…. I had two young girls and was no longer happy with the corporate lifestyle. It was beginning to affect the family…
Then, one day a friend of mine asked for some advice. She had a small business and they were struggling a bit. She asked if I could give them some advice with sales and marketing, she said "you know a thing or two about that". From my time in the corporate role I did know more than 'a thing or two' about sales and marketing and so met with her to give her what I thought were some simple strategies. In the months that followed, sales started to fly and they were so excited. I realised that I got more excited from helping her to make tens of thousands of dollars, than the millions I had been part of in my corporate roles.
So my friend and husband both said – right – that's what you need to do. With that, I left my well paid corporate job and started my own business!
It seemed like a good idea at the time, because really, how hard could it be? I could make all this money, and have all this free time with the family, and be my own boss. Easy…
"The reality is that it's not so easy to do. Because no one tells you how to set up and run a business. "    
I sat in my office for 3 days and it was the tidiest it has ever been.  After that my husband said – Don't you need to get a client or something? I hadn't had to do that for years – I just managed the relationships and worked with the senior management team. And that was the scariest thing, I could sell any product to anyone – but having to sell 'myself' was a whole different story. I had to tell people why they should spend money and work with me and that was really hard to be confident and come across like that.
Setting up my own small business, from the ground, was the best and fastest learning I've ever had – and I learned a lot of hard lessons and made mistakes along the way. Which means everything that I work through with my clients I've been through myself, so I know what it's like to stress and not sleep at night because you don't have any clients and worry about how to pay the bills. Then I also know what it's like to have too many clients and be working long hours to keep up. And I also know how having good systems in place can make a huge difference and let you grow a successful business and have a 'life' as well.
Now work with small to medium businesses from start-ups to established businesses and take them to 6-7 figures!
I've now worked with more than 150 clients – sole traders, start-ups, established small to medium businesses to multi-million dollar organisations – helping them to apply globally renowned strategies, and tailored to leverage their business. I specialise in helping to take small businesses to 6 to 7 figures using strategies proven to get results in the Australasian market and I've perfected unique ways to scale a company without it costing a lot of money.
So, you don't NEED to spend a lot of money, you just need to know what to do and how to do it. And with that, it means I help my clients build a successful business and have a 'life' at the same – which is why I do what I do.
If you would like to know more about what Fiona does, or how she can help you in your business, please book in a complimentary 20-minute Strategy Session – info@bbsolutions.co.nz or (09 476 9407)